⚠️ Trigger Warning! This post talks about mental health, depression, addiction, thoughts of hopelessness and vague mention of suicidal thoughts. Discretion is Advised!

I've been racking my brain trying to come up with a very cool and semi-professional looking post that you Pro Wrestling Geeks would be into, but I think I should be honest instead of "Social Media Perfect."
I've been struggling a lot these past months. My mental health took a horrible turn and it's been worse than ever after I thought I was improving. I've been getting treatment, began medications and have been scrambling for the right diagnosis. Within my mini-list-of-shit (list of mental health conditions) is severe depression. I know a lot of people can relate to the pain, the fatigue and the sadness that comes along with it. Everything feels dull and gray or only sunny for a little while. Depression just feels hopeless… and if you've ever felt it, I get you.
Within the symptoms for this mental illness is a lack of interest for things you used to love or find enjoyable. For example, reading, exercising or spending time with your loved ones. At times, this was hard for me to navigate because I thought I was just being bitchy or lazy and procrastinating. But no, I was just depressed. And it bled into every aspect of my life, including my love for Pro Wrestling. Though I still watched a match every day, I didn't watch it with the same excitement or zest as I did in high school or when I was watching Wrestle Kingdom earlier this year. (Because let's be real here, is there anything better than Ibushi vs Ospreay) Sometimes it was just a routine. A chore. Something I forced myself to do or to watch, even when I really didn't want to. So usually I'd just watch a 10 minute, or shorter, match to "Salir del Paso," like we say in Puerto Rico, or just get it over with. And they weren't all sucky. I saw people like AJ Lee, Trish Stratus and Lita, The Beautiful People and Gail Kim, but the energy I was watching it with wasn't the same.
So why did I force myself to watch it? Because I knew deep down I loved it, even though sometimes I didn't feel it. I stopped watching Raw & Smackdown and blamed University for being too tough and demanding and not giving me time to watch it. When en el Fondo (in reality) I just didn't want to. I let my Honor Club and NJPW World collect dust, (which isn't very kind to my bank account) and would find out what was happening by scrolling on my social media. I was losing touch with something that was such an integral part of who I am… it was really sad… What's really strange about the whole thing is that in times of crisis, I usually ran to Pro Wrestling for comfort. It was my best friend in high school, my biggest pastime/hobby and motivation, and (Trigger Warning!) my reason for staying alive at times when I begged for my days to permanently end… So why was I turning my back on it?
The coloration between Mental Health is Pro Wrestling is much bigger than you think. Why? You may ask. Because Pro Wrestling is based on people. Real people. Everyone from the wrestlers to the fans, to the promoters, the camera people, to the starstruck production assistant hiding in the bathroom face-timing their mom. EVERYONE IS A PERSON. And mental health problems happen to people. So with that said, have you ever stopped to think that your favorite wrestlers and wrestling personalities have struggled with what's in their brains too?
The first one that always pops into my mind is AJ Mendez, FKA AJ Lee in WWE. She wrote an entire book, called "Crazy is My Superpower," dedicated to her Bipolar Disorder, a mood disorder categorized by cycles of depression and an elevated state called "Mania."
Would you have ever thought that her "mentally unstable" character on TV actually came from a real place deep inside her head? Although if you analyze that role, it seems that TV AJ more so had Borderline Personality Disorder (also known as Emotionally Unstable Personality Disorder) than Bipolar because the mood switches were more rapid and it deals with intense, unstable relationships, the conditions are so similar that she was able to pull from her own darkness and create art. Not many of us are able to work in something so creative that allows us that cathartic expression on an everyday basis. AJ has said that she felt as if she was "hiding in plain sight." That fans would come up to her and tell her about their struggles with mental illness as if they knew that deep inside she was struggling too. But when she finally told the world her secret, she became a sign of hope and an agent of change for all those who encounter her. By sharing her real-life struggles, she was able to help and relate to the fans who were struggling, but, she began a very important journey of fighting against the stigma of mental health and that's her current wrestling match. 
Another wrestler that has been open about their mental health struggles is former Impact Wrestling Knockout, Allie (aka Cherry Bomb), who is currently signed to All Elite Wrestling. She took it upon herself to open up with her struggles with depression in order to raise awareness and help others struggling by encouraging them to get help and by showing them that even if you struggle with depression, you can still make your dreams come true. Allie, bravely, took it upon herself to show her fanbase and the wrestling world that mental health is real and can affect anyone, and I think her openness is a really cool and inspiring thing. 
[Video is taken from Youtube. I do not own it]
With social media eating away at our everyday lives, it's easy to get wrapped up in this bubble, believing that everyone's life is perfect. Just because wrestlers like Chelsea Green, Tenille Dashwood, and Charlotte Flair take a lot of selfies on Instagram doesn't mean they are above humanity. Everyone is still a person. Things like a loss of a loved one, a break up/divorce or a dream not panning out still hurt. The difference is that odds are, you and I don't have to plaster a smile on our face in order to entertain thousands of people night after night. Why do you think lots of our childhood favorites, like the Hardy Boyz, got wrapped up in addiction? And not just them. Modern-day wrestlers like Celeste Bonin (Kaitlyn in WWE) or Mike Bennett (Mike Kanellis in WWE) have opened up about their struggles with addiction. Everyone has their own bag of shit to carry. 
[Video is taken from Youtube. I do not own it]
Wrestlers go through a lot of pain, so it's not so unusual that they'd want to numb it. Not everyone is Straight Edge like CM Punk, a punk rock lifestyle that abstains from Drug and Alcohol use. Actually, on the topic of mental health, did you know he suffers from Anxiety? He admitted it in an interview before his second UFC Fight. I guess after how his WWE run ended, you can't be too surprised to find out that he struggles with something. If you're feeling and/or being forced to do something when you feel physically ill, it's not unheard of to develop anxiety to the situation. Or even depression. There is a type of depression that happens to people who go through very intense medical treatments or illnesses like Cancer and Heart Disease. It's a lot to handle. So as much as you can argue that he's just an "asshole," would you be happy if you had a painful growth on your side?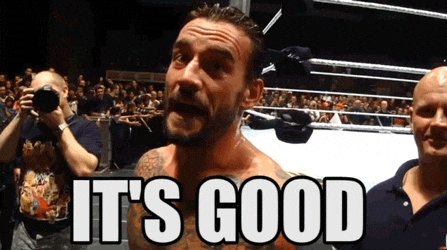 So, I guess the moral to all this is to show that we aren't the only ones suffering. We aren't alone, no matter how lonely we feel. There are other people out there who understand what it feels like to struggle with not being able to get out of bed in the morning or being too scared to leave the house. People who win shiny championship belts and have abs chiseled out of stone. Or someone like me who is just a nobody wrestling fan with a laptop. People who are real. So tear your walls down and accept that it's ok to be vulnerable. That your scars make you tougher, not weaker. We aren't robots and everyone has to work to keep their head in check and Lilian Garcia is trying to show the wrestling world just that.

The former WWE Ring Announcer has a podcast, called "Chasing Glory," that she has dedicated to themes like the one of this blog post. She uses the phrase "real, raw and inspiring" to describe the types of stories she wants her guests to share and her audience to listen to. She's actually gotten a lot of WWE Superstars to bravely open up about struggles with mental health, eating disorders, frustration, loss, divorce, and hardships you wouldn't casually tell a random stranger on a first date. I love the interview she did with Alexa Bliss in which she dives into explaining her battle with anorexia. You'd never think that someone as healthy and gorgeous as she struggled with Self Image as a teen. It's a powerful story. 
[Video is taken from Youtube. I do not own it]
Another WWE superstar who Lilian, recently, got them to open up was Aleister Black. This former NXT Champion has a really dark gimmick and occult demeanor. But did you ever stop to think from where it all stemmed from? 
The inspirational power in Black's story is the fact that it was painfully real. Almost too real. He didn't sit there and chat about a specific mental health diagnosis. He more so dove into experiences and feelings that have molded and shaped who he is. Hearing that someone who is finding success in the biggest wrestling company in the world struggles with loving themselves and being happy is shocking but is so relatable. Bet you never even thought that was a possibility. So if you need a little motivation, I highly recommend checking out Chasing Glory and I hope it makes you smile a bit.
https://www.prowrestling.com/aleister-black-opens-up-about-his-mental-health-never-feeling-good-enough-slowly-becoming-the-person-he-wants-to-be/ 
At the end of the day, Mental Health Matters! It just does! Because we matter. No matter the diagnosis, no matter the circumstance, or the pain that we feel, WE ALL MATTER!! So next time you are feeling low, I hope you remember this post and you feel a little less alone and a little more understood. In the wrestling match against mental illness, I am rooting for you and I really hope you don't stay down for the count and you find happiness inside that squared circle. 
Take Care of Yourselves, Wrestling Geeks! And if you really need help, I hope you can reach out and get it, no matter how difficult it is.
Sincerely,
PJ Cage