Cover Photo Credit: Photo Edited by ME on VSCO under CC Guidelines & Licenses [Original Photo by: Miguel Discart https://bit.ly/1Wlp2Ja Title: 2013-11-08_20-07-13_NEX-6_7554_DxO https://bit.ly/2PofvnP  License: CC] 

Something that I've always loved about Pro Wrestling is how it blurs the lines between real life and scripted fantasy in a way that's different than regular television (i.e. Drama Series or Reality shows) or movies. It's like a land of make believe in the middle of the real world. You can't hop in your car and get to Narnia, but you can go to a wrestling show and see talented people tell emotional stories. You can watch someone like Fenix jump from the freaking roof on Lucha Underground or have a laugh with Colt Cabana when he is proven to be MJF's Daddy at an Indy show… (If you haven't seen it, you're missing out.) 

Not Fenix but still Hella Impressive!!! #LuchaUnderground
[Via: Tumbler]
It's a world with so many layers that helps so a lot of us escape the troubles of our regular life. We watch these larger than life characters become superheroes on our television screens and endure so much punishment and live to tell the tale. It's astonishing!! So imagine all of our surprise when we realized that the master of the superman punch… was human just like all of us…

Roman Reigns, in a way, had been a controversial figure in WWE for years now. And it's not because he did anything scandalous. Even though he's won every title you can possibly have on the RAW brand, Main Event Wrestlemania multiple times, and has even won the Royal Rumble, he's always gotten booed when the point was to get cheered.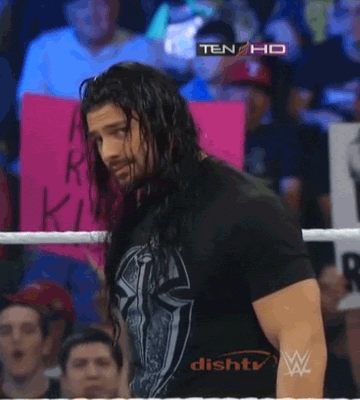 [Via: Gifhy]
I feel like the fans' problem with Roman Reigns was never Roman Reigns himself. More so the fact that his "push" always felt forced. If you aren't aware, for years WWE has tried to make Roman Reigns the face or "golden boy" of their company, since John Cena is getting gray hairs in Hollywood.

"No Tea, No Shade, No Pink Lemonade"  • Jasmine Masters from Ru Paul's Drag Race Season 7 
So WWE, realized they needed someone to fill that big babyface (good guy) role in the years to come. But instead of letting the fans decide who that should that be by their reaction to the "Good Guy" superstars on the roster, they hand picked Roman Reigns and began grooming him as such. This never sat well with most of the fans and boy, did their boos tell ya that.
As a television student, I can understand the business side of things and wanting to have creative control over your product and the direction it's headed it. As someone who has taken basic media and communications classes, I get the whole "Create a problem and a marketable solution" thing. But Pro Wrestling isn't the same as painting someone as an "sweetheart angel" on a telenovela or making character symbolize everything that is pure and good like Archie Andrews on Riverdale. Like it or not, the fans have a lot more control and say-so in the product because they are the ones buying it. So when you ignore them or tell them what they want, they will in turn reject it and go look for something else. Like if you force your child to be best friends with the neighborhood new kid and they refuse. They might have naturally become friends with them, but when you impose your will on someone, they are more likely to rebel against it. Its basic Teenager 101. 
Before all this, if you asked me my opinion of Roman Reigns, I'd tell you that he's just not my style. I'm not that super into that super Big man "Hulk Smash" Monster Mash style that he has to display when fighting opponents like Brock Lesnar and Braun Strowman. He's not a total Grappler like Zack Saber Jr. Not a Japanese Strong Style. Not a Lucha Star. Not a Hardcore guy. Cagematch.net describes Roman's Wrestling Style as "allrounder" https://www.cagematch.net/?id=2&nr=9967 I guess that means he can have a great match with anyone. Which he has. It's just that, personally, I have always gravitated more towards the Indy Darlings like AJ Styles, Daniel Bryan and Kenny Omega. And that's alright. We all don't all have to obsess over the same people. That's the beauty of Pro Wrestling! That you have so much to choose from. 
I really liked Roman Reigns in the Shield. I've always loved the chemistry and cool factor he has when paired with Seth Rollins & Dean Ambrose. I think he does put on good matches and has had great storylines like when he won the WWE Championship and his feud against AJ Styles. He can cut a good promo, but they aren't as captivating as an old CM Punk Pipebomb. I never hated Roman, I felt more neutral to him. But I too felt that "we are telling you what you are suppose to like and want" from WWE. Because "the masses," as we are called, aren't as stupid as they tell you in media marketing class.
But no matter how much you loved or disliked Roman Reigns, NO ONE wished this fate upon him…
Monday, October 22, 2018

It seemed like an ordinary day, like any other. People woke up early, went to school or work and sat down in front of the TV at 8 pm to watch Monday Night Raw for 3+ Hours. It was just a normal day.
Roman Reigns kicked off that episode of Raw walking to the ring in regular street clothes, with his Universal Championship on his shoulder. He got some cheers and he got some loud boos. But little did the fans in attendance and people watching at home know that it wasn't "The Big Dog" Roman Reigns the arena that night. 
Watching it back for this blog post, I noticed how nervous and anxious Roman was while walking slowly to the ring, stalling almost. How he takes deep breaths, as if he had no air and his face was visible distraught and in turmoil. He stands at the top of the ramp and just looks around at the crowd. No smile or laughter, just taking a moment to soak it all in. It's truly heartbreaking to watch…
[Youtube Video by: WWE https://bit.ly/1eXKFvD Title: Roman Reigns relinquishes the Universal Title to battle his returning leukemia: Raw, Oct. 22, 2018 https://bit.ly/2Sbc7KL I DO NOT OWN THE RIGHTS TO THIS VIDEO. SHARING FOR VIEWING PURPOSES ONLY]
He proceeds to give a fan a fist bump and regain his composure, while the commentators keep hyping up his championship feud storyline. He grabs a microphone after getting inside the ring and starts off by apologizing to the fans. Saying how, as Roman Reigns, promised to be a fighting champion, to be there every week, how he was going to be a workhorse but it was all lies.

It's a lie because the reality is… My real name is Joe and I've been living with Leukemia for 11 years… and unfortunately, it's back.

Roman Reigns

The crowd was stunned and went silent. Everyone was in shock, with tears in their eyes as he spoke. The champion everyone booed because he won the title, was now getting boos because he had to relinquish it. Although he needed prayers, he said that he wan't out there, in front of that crowd, looking for sympathy. He was there because he has faith. The average "Joe" proceeded to talk about the first time with Leukemia. His struggles and hardships. Then is able to take his story and, seamlessly, turn it into the best babyface promo he's ever cut. Because it was real!! And you can see and feel how the crowd embraced him with their energy, compassion and cheers. The connection Joe established with the fans was more meaningful than anything "Roman Reigns" was ever able to do. And it's not shade. In Pro Wrestling, you gotta connect with the people you are watching. They need a reason to care. And now everyone who didn't care about "the Big Dog" has a deep love, appreciation and respect for the man behind the superman punch.
Honestly, cancer really hits home for me. When I was a little girly girl, my Kindergarten teacher had a son with Leukemia. He's name was Dean and he was my friend. He came to my 6th birthday party at a gymnastics gym. He was a fun kid full of joy and light. We ended up going to the same elementary school, though never in the same grade since he was older than me. I remember every year buying rubber wristbands to support him and Leukemia treatment. That boy fought until the end like so many others… Like my Abuelita did…
This past Summer was the most difficult Summer I've ever had. Both of my grandparents had cancer at the exact same time. My mother's parents. My Abuelo had prostate cancer, which was caught very early, but Abuela had been diagnosed with Cancer for the third time in her life. At first it was in her bladder, but this time it was outside her bladder, attacking her lymph nodes. That's the system that helps drain toxins from the body. I spent almost every day with them. Doing chores, making them food and keeping them company. It was the most draining time of my life but the most rewarding because it taught me how important family and being there in the present moment is. Abuelo finished his treatment and is still feeling the effects as we continue to help take care of him, but my Abuela went to heaven, where she doesn't suffer anymore. But she truly did fight until the end. 

Some wrestling smart mouths have been saying that Roman Reigns only got "over because he has cancer." FALSE!! Roman Reigns got over because the fans made a natural, organic and real human connection to him. He let the tough persona go and showed pure strength and resiliency. The tears that man shed were soaked up by the sad hearts of the WWE Universe and the wrestling world as a whole and helped his faith and desire to fight and keep going even stronger.

So in the midst of this heartbreaking moment on Monday Night Raw, we learned that Joe Anoa'i wasn't so different from our friends, our family, anyone we have ever cared about who has sadly been attacked by this evil illness… It was one of those surreal moments where real life invades the fantasy world of Pro Wrestling. The curtain is pulled back and that magic is replaced with human emotion and just the energy of the people there. We saw a man bravely tell the world that his body wasn't as strong as he let them to believe, but has a heart and will to fight and life shinning brighter than any laser treatment or pain he has or will continue to endure. It's honestly inspiring.
[Via: Gifhy]
Something beautiful that came from all this sorrow. It was seeing how wrestlers and fans from all over the world and different wrestling promotions, joined together to send Roman their thoughts, love, well wishes, words of encouragement, and, in some cases, their humble prayers. Legends and rookies, WWE Superstars & Indy Darlings, Old and New, weather it be from the USA or Japan… Everyone let their kayfabe guard down and sent Joe, the man under the Armor of the Great Roman Reigns, what was in their hearts. Here are a few tweets that show of all the love, support and compassionate humanity is in the Pro Wrestling Business.

The pro wrestlers we look up to are no less human than you and I. They feel pain, go through hard times and endure twists of fate that aren't dished out by the Hardy Boyz. Life throws them curveballs too. Sometimes they have to take time to focus on their health and family. They just have bigger platforms than most that they can use to encourage other people to keep on going.
Roman, I wish you a speedy and full recovery. Stay strong in treatment and my thoughts and prayers are with you and your family. In the wrestling match against Leukemia, kick out at 2 and fight until you beat it. I have faith that you'll win. 

PJ Cage

According to various wrestling news blogs like PW Insider, Roman "Joe" Reigns has recently begun treatment. There is no timetable for his return, so don't expect to see him taking bumps anytime soon. Cancer treatment is very exhausting and difficult. But we all have hope that he'll make a full recovery and will be back wrestling in a WWE Ring one day.
Leave your favorite Roman Reigns moment down in the comments below and don't forget to tweet your prayer, thoughts and/or well wishes to https://twitter.com/WWERomanReigns and use the hashtag #ThankYouRoman


Stay Weird, Safe and Healthy, Wrestling Geeks! 👽🤘🏻❣️🙏🏼
PJ Cage 🖤