I was that girly girl in elementary school who always had a lipgloss with her. I remember once in gym class we were sitting on these square boards with wheels and playing some sort of soccer variation, and while my team was hard at work, I was in the corner applying more lip gloss thinking it was going to make my uncoordinated self powerful enough to make a goal. Dumb, I know. All the kids let me know right away how ridiculous that sounded. The point is that from a young age I really loved makeup, lip products in particular since I wasn't allowed to use anything else. 
Little Elementary School PJ with teacher Mrs. Goodwin. Aren't I adorable? [Photo by: Glorimar Camareno – License: CC]
As I grew up and my style evolved, so did my makeup routine. In middle school, I moved away from my girly girl, Disney chick nature and started hanging out with the cool emo and scene kids at my school. There came my love for eyeliner that has withstood the test of time. I started being allowed to wear black eyeliner, powder, concealer and eyeshadow if I was going to church, and with, you guess it, lip gloss. I sometimes used mascara but didn't like it very much because it made my lashes stick together and very dramatic. My how things have changed.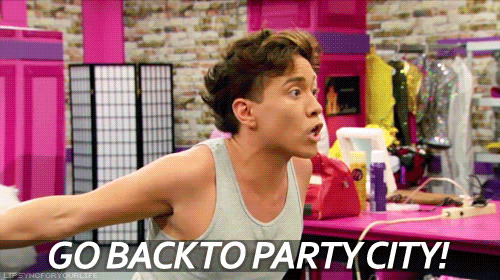 Maybe once day I'll muster up the courage to post a photo of me in middle school. But that day is not today. 
My everyday makeup routine in 10th grade was black gel eyeliner in my waterline and a sheer pressed powder on my face to prevent the eyeliner from smudging all over the place, even though it always would in the end. And still lip gloss and maybe red lipstick if I was going out or something. Maybe once in a while I'd do a pitch black smokey eye with eyeliner and unblended black eyeshadow that would always crease on my oily eyelids. But that makeup love I had was fading away to the point that I wasn't very bothered if I wasn't wearing any makeup out of the house by the time that summer rolled around. It wasn't until 11th grade that my love for makeup really blossomed into a undying passion. 

CRINGE!! Me in High School. [I own the rights to this photo. License: CC]
I have a very hard time concentrating, so this leads me to procrastinate a lot. So when the drama in high school got to be too much for my angsty teenaged self, I turned to Youtube to watch pro wrestling. (Which is which my other blog is about) While diving deeper into everything that YouTube had to offer, I stumbled across makeup tutorials and everything changed for me (and my wallet.) I was so drawn to the fact that it felt like these people were talking to me through the iPad screen in a way that TV didn't do. Beauty Gurus like:
Ingrid Nilsen https://www.youtube.com/user/missglamorazzi
Dulce Candy https://www.youtube.com/user/DulceCandy87
Michelle Phan https://www.youtube.com/user/MichellePhan
Tati (Glam Life Guru) https://www.youtube.com/user/GlamLifeGuru
Kayleigh Noelle https://www.youtube.com/user/ForeverYours0727
became almost like my friends because I watched their videos every day. So I dove head first into the beauty world as another escape to the chaos of my real life and the result was quite beautiful after I learned how to apply the right foundation to my oily face. 
I've always considered myself to be very creative and in high school, especially, very artistic. In 10th grade I was always painting or drawing (poorly, but trying). So makeup just seemed like a natural fit for me. So when my guy friends from church would raise their eyebrows at me when I begged them to go with me to Sephora to spend my allowance, I explained to them that I love makeup because it's an art. I didn't always have time to paint a canvas every day but yes some time in the morning to make a mini masterpiece in my face. And I still stand by that statement. After reluctantly agreeing, they'd be testing designer colognes in the male fragrance section & I'd be swatching up a storm of colorful makeup products on my arm, that I'd happily wear out of the store like works of art on my skin. 
Lip Stick Swatches [I own the rights to this photo. License: CC]
As time progressed, with lots of trial and error, I've learned the products I like, my skin type and my style of beauty. I learned how to do my eyebrows, how to care for my face and how to apply all the makeup I've bought over the years (and it's been a lot) thanks to Youtube. To the point that I have done freelance makeup jobs for weddings, graduations, birthdays and even a church play. (Putting highlighter on the guy that was playing Jesus was a very satisfying moment.) I'm not a trained makeup artist or a professional. Just a self taught chick who likes edgy, grungy, punk, gothic, rocker chic makeup in a world where bombshell glam is the standard. And don't get me wrong. I think glam makeup is gorgeous, on other people and I can do them on friends and clients. But at the end of my day I always want the looks I do on myself to have a bit of an edge to, even if I'm trying to look natural-esque or wearing lots of highlighter. 
Throwback to Me a few years ago wearing Jeffree Star Velour Liquid Lipstick in Scorpio at Taco Bell. [I own the rights to this photo. License: CC]
So I decided to create this Beauty blog section on my Website to express a side of me that I don't share with many people. I think we all have different sides to us and it's perfectly cool to have multiple interests. So here's one of mine. I also hope this helps me come out of my shell a bit because I'm very introverted and reserved. I rarely ever take "selfies" or post pictures of myself out of shyness and self consciousness but aren't we all a little insecure? So screw it! Sometimes we all gotta do things that scare us. So I'm gonna share my love for makeup with the internet while I apply my favorite Burgundy Red lipstick and listen to Adore Delano on Spotify. (Also a huge fan of RuPaul's Drag Race, which we will talk about in a future post.)
So Welcome to the Beauty side of the Mind of PJ Cage. Enjoy the lipstick and smudgy black eyeliner, since I can't do a wing to save my life and embrace the skin you are in no matter what. 🖤💄💁🏻‍♀️
My "Go to" Everyday Makeup Look [I own the rights to this photo. License: CC]